The Honorable William L. Witham Jr., Resident Judge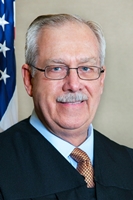 The Honorable William L. Witham Jr. became an Associate Judge of the Superior Court of Delaware on February 18, 1999; he was appointed Kent County Resident Judge on January 19, 2005.
He received his B.A. from the University of Delaware in 1970, and his J.D. from the University of Maryland in 1973. He was admitted to the Pennsylvania Bar in 1975 and the Delaware Bar in 1976. Resident Judge Witham graduated from the United States Army War College in 1998. Prior to joining the Superior Court, Judge Witham was a partner with Prickett, Jones, Elliott & Kristol in Dover, Delaware. He also served as the Kent County Levy Court Attorney in 1999.
Judge Witham oversaw the implementation of the State of Delaware's Veterans Court, and since its inception in 2011, he has been the Veterans Court Judge.
During his career, Resident Judge Witham has served on the Criminal Justice Council of the Judiciary, as a member of the Judicial Ethics Advisory Committee, as a member of the Board of Bar Examiners, the United States Third Circuit Merit Selection Screening Committee, the Governor's Magistrate Screening Committee, as a trustee of Delaware Technical and Community College, as president of the Central Delaware Committee on Alcohol and Drug Abuse, Inc., as a director of the Board of Managers of the Central Delaware YMCA, and as president of the Dover Kiwanis Club. He served as president of the Kent County Bar Association and as the vice-president of the Delaware State Bar Association. He is also a retired Delaware Army National Guard Colonel.
Resident Judge Witham is currently a member of the Delaware State and American Bar Associations, Terry-Carey Inn of Court, and the National Association of Drug Court Professionals. He also is an adjunct professor at Wilmington University.
Resident Judge Witham retired on May 14th, 2021 (original term ended in March 2029). Judge Withham will be assisting Superior Court with Veteran Court related matters.