Leonard L. Williams Justice Center
Wireless Access for the BAR
---
Members of the public who are authorized to bring electronic devices into the courthouses have wireless access (state-guest-net) for their laptops, smartphones, and mobile devices. Please review instructions and guidelines for making use of the State-Guest-Net wireless services in the courthouses statewide.
The use of wireless networking throughout the courthouse allows attorney's to make use of wireless connectivity within the courthouse to connect to their office via the Internet without the need for a physical network connection. For information on wireless access, please contact CourtroomConnect or visit their web site at www.courtroomconnect.com.
Evidence Presentation
---
In order to stay current with the needs of counsel, the Judiciary has compiled information regarding the equipment and technology available for use by counsel in the courtrooms in the State of Delaware. Please visit the Courtroom Equipment and Technology web page for an overview of what is available in the Leonard L. Williams Justice Center.
All courtroom technology requests must be arranged and approved through the Court, the Judge's office and/or the pre-trial conference. To inquire about a courtroom, please contact the Court directly in each county using the contact information provided on the Courtroom Equipment and Technology web page.
Evidence Presentation Equipment
---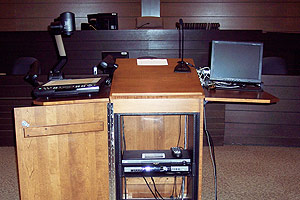 Evidence Presentation systems provide audio/visual equipment to allow evidence to be presented from computer system presentations, DVD's, CDROM's, VCR Tapes and document cameras.
Evidence is displayed on computer monitors at the bench, witness stand, attorney tables and on a wall mounted 50" plasma monitors.
A close-up of the wall mounted 50" plasma monitors.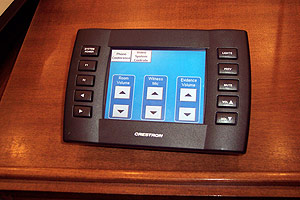 Remote for the Evidence Presentation System.
The Evidence Presentation System and 50" plasma monitor.
Evidence Presentation System.
Parking
---
If you or your firm is interested in renting a block of parking spaces (20 or more) in the Courthouse parking garage, please call Colonial Parking Facilities at 651-3600.