Justice of the Peace Court 9 - New Castle County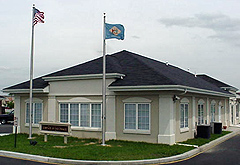 Address:
Justice of the Peace Court 9
757 North Broad Street
Middletown Square Shopping Center
Middletown, DE 19709
Jurisdiction: Criminal, Civil
Hours: Monday-Friday 8:00am - 4:00pm
Cash and credit cards are NOT accepted for payment after 3:30 p.m.
Effective Monday, November 7, 2022, Justice of the Peace Court 9 will be modifying operations until early 2023.
Court 9 will remain open for full operation on Tuesdays and Wednesdays.
The court will be closed to the public Monday, Thursday and Friday.
Court 11 in New Castle and Court 7 in Dover are available for all criminal matters. Court 13 in New Castle is available for all civil matters.
Thank you for your patience and understanding. If you have any questions, please contact Court 9 at 302-378-5221, or by email at JPCourt09@delaware.gov
Phone Number: 302-378-5221
Fax Number: 302-378-5220
Generic Court e-mailbox: JPCourt09@delaware.gov
Parking: Parking available in lot
---
Helpful Links:
Map
Justice of the Peace Court 9 is located at 757 North Broad Street in the Middletown Square Shopping Center in Middletown.